CCCC's SBC Assists Author Kristen Hopkins, Who is Changing Lives of Others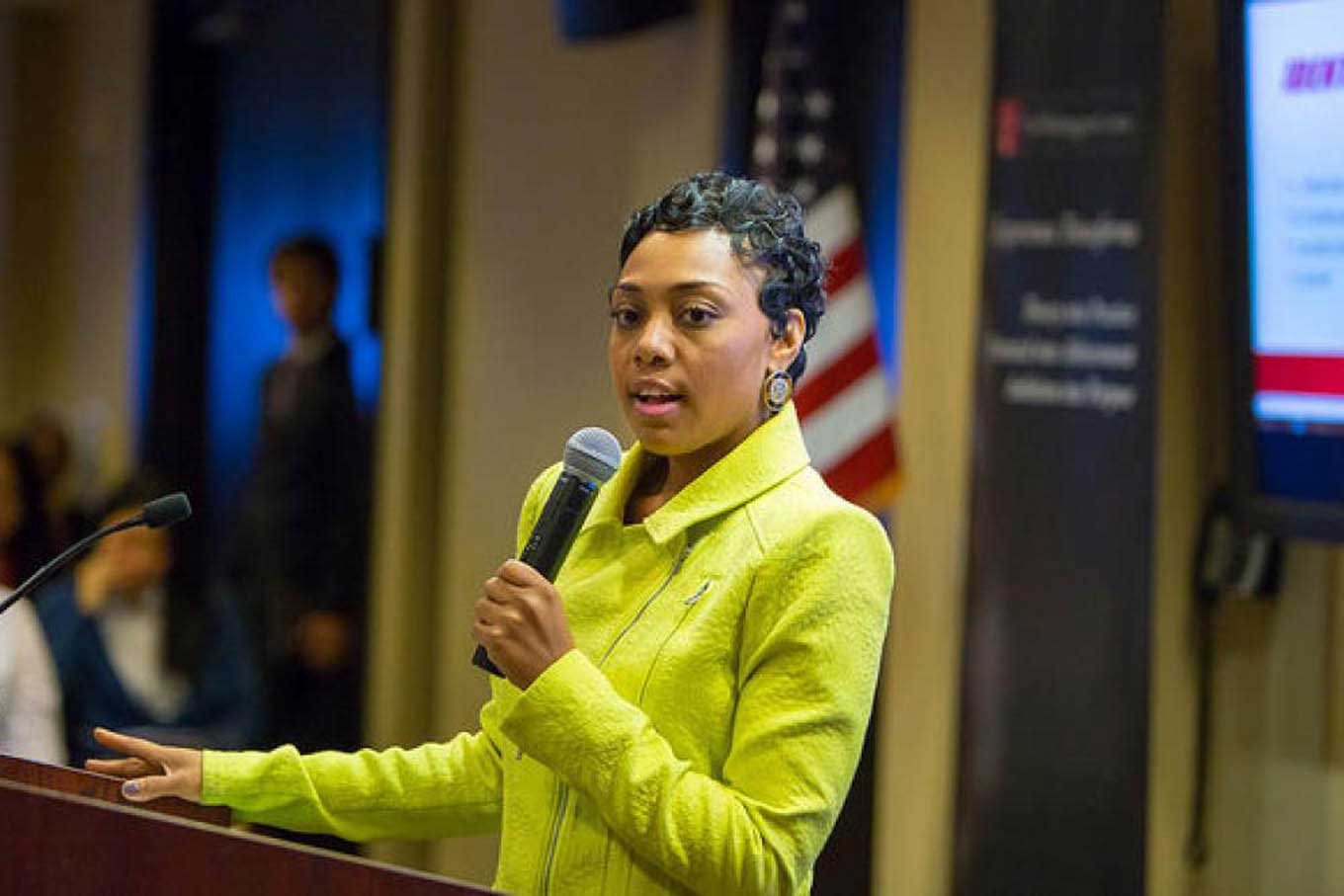 Sometimes even bad circumstances can turn into something good. That's one lesson Kristen Hopkins learned after a series of personal setbacks forced her to examine and reset her life.
Another lesson she learned: Unexpected help along the way can make all the difference in the world. Help like the connections Hopkins made at Central Carolina Community College that helped her launch a new business that changed her life forever.
And has been changing others' lives as well.
Hopkins was operating a public relations firm in Atlanta when everything fell apart, almost at once. Her condo flooded. One night, she lost control of her car, spinning into a pole and totaling the vehicle. If that wasn't enough, her computer crashed, destroying a lot of her work and plenty of income. With nowhere else to go, she retreated to her parents' home in Sanford and, as it turned out, was there longer than anyone expected.
But while visiting her parents, Kristen wrote her first book, "Dangers of the Mind," reflecting on those setbacks and recounting what she learned in the process. After a brief return to Atlanta, she came back to Sanford, turned to CCCC for some Small Business Center courses and started developing her own company.
It was then that Hopkins ran into Terri Brown, coordinator of CCCC's Lee County Small Business Center. Brown sat down with the young entrepreneur to learn exactly what she had in mind and how the college could help. "I was looking for some potential investors at the time, so Terri gave me a lot of help developing a business plan," Hopkins recalls. "From there, our relationship grew."
One marketing plan and plenty of free, one-on-one advice later, Hopkins' business is a reality and the author is on the verge of doing something spectacular. She's turned her book into an academic curriculum by the same title, a self-help approach for "at-risk" students that's now being tested at one of the largest alternative schools in Washington, D.C., and among teens at her high school alma mater in Connecticut.
Her company, also called Dangers of the Mind, is helping young people counter negative attitudes thrown at them every day and resisting self-defeating beliefs that keep them from pursuing their true purpose in life. As Hopkins likes to tell people, "I believe a toxic thought life can become your reality."
The curriculum, which incorporates educational standards adopted by many states, is built around 10 activity-based lessons designed to help students achieve success in the classroom and in life. Lessons allow students to connect with parents, assess their own perspectives and consider options for college and careers. The goal, as Hopkins puts it, is to "teach and build a strong system of future pioneers who will harness their internal power and catapult into their rightful purpose."
It's a lesson Hopkins learned the hard way. "I've overcome my own dangers of the mind," she admits candidly. "The same ideas I've overcome are the things I talk about with kids. They're things that keep us from walking into our purpose. I teach kids how to identify these things so they're not a victim any more, and so they can move forward and make progress in their lives."
That perspective has attracted supporters from outside education. Chris Baker has seen first-hand how important that message is for young people trying to make their mark in the world, especially youth living in the inner city. As a National Football League defensive end and founder of a nonprofit foundation created to provide literacy training, Baker has plenty of opportunities to speak in schools. He draws on concepts from "Dangers of the Mind" to inspire and encourage his audiences.
"'Dangers of the Mind' really hits home for me as I have struggled in high school and college with battles against my thought life and decision making," Baker said in an email sent from his home near the nation's capital. "I'm inspired to see how much the brand is growing and how well the students are receiving this program."
Though Hopkins' curriculum is still being developed, it could be the start of something big. She's already exposed students in Ghana to concepts from the book, and she says the curriculum will be taught in Haiti this summer. In fact, "Dangers of the Mind" is now being considered by dozens of inner city schools across the United States.
It's even being offered in Sanford through Extol Ministries, a local nonprofit helping women and children reach their full potential. Though she lives near Washington as her curriculum is being developed at the alternative school, Hopkins maintains ties with Sanford and works with the ministry as its social media director and creative advisor.
And if it weren't for those personal setbacks and a chance encounter with the CCCC Small Business Center, none of it might have happened at all.
"Being an entrepreneur is hard," Hopkins says on the phone as she drives from one appointment to another. "Not everyone believes in your dreams. You have to stay focused and compassionate.
"You can't get complacent and you need to take advantage of the help people like Terri and CCCC can offer along the way."
For more information on Dangers of the Mind, visit the website www.dangersofthemind.com.
For more information on the Central Carolina Community College Small Business Center, call 919-718-7544 in Lee County, 919-545-8013 in Chatham County, and 910-892-2884 in Harnett County, or visit the website www.cccc.edu/sbc.
Published: