Driving Into Business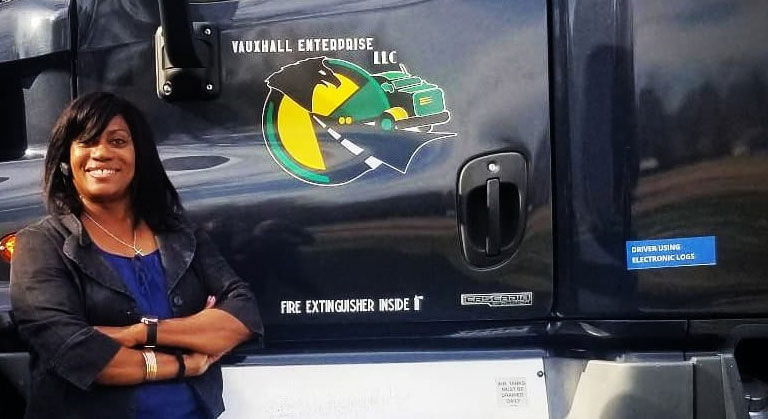 Back in 2017, Shirley Gray, was an instructor for a truck driving school in Dunn, NC, when a colleague told her about the resources and programs that the Small Business Center at Central Carolina Community College offered that help small business owners. The colleague suggested that she go talk with the Small Business Center Coordinator in Harnett County, Mari-inetta Pavlic, about her business idea.
Shirley's first step was to rent an office at Triangle South Enterprise Center. She had some ideas but was not able at the time to work on her business due to work obligations and the fallout from a rocky marriage.
On the first day when she went to pay her office rent, she sat down with Mari-inetta to talk. Mari-inetta told her about the courses and classes that are offered at the Small Business Center, as well as the other available resources.
Shirley told Mari-inetta about her vision of owning her own trucking business but did not have the resources and support or financial means to buy a truck. After talking for about an hour, Mari-inetta began helping her write out her goals. Their relationship began to grow as Mari-inetta worked with her to get her trucking business off the ground. Shirley was able to secure funds with the help of the SBC partnerships with the Carolina Small Business Development Fund, Mountain BizWorks, and the SBA.
Shirley has worked with the SBC and Mari-inetta from the start of opening her trucking business in 2017. She became a flex renter at Triangle South where resources were provided to her and her business regularly. As a trucker, Shirley saw the difference COVID-19 had on the local economy and businesses. When Mari-inetta informed her of an opportunity for additional counseling through a pandemic relief program, she knew this was a chance to elevate her business to a new level. During the program, she worked with multiple subject matter experts that gave her the knowledge and confidence to grow her business. Shirley was able to organize a more in-depth business strategy, develop a website, and create a professional logo for her business - Vauxhall Enterprise LLC. While working with the SBC, Shirley has increased her visibility and was able to retain 2 full-time positions in her business.