RISE Graduate Makes Her Dream A Reality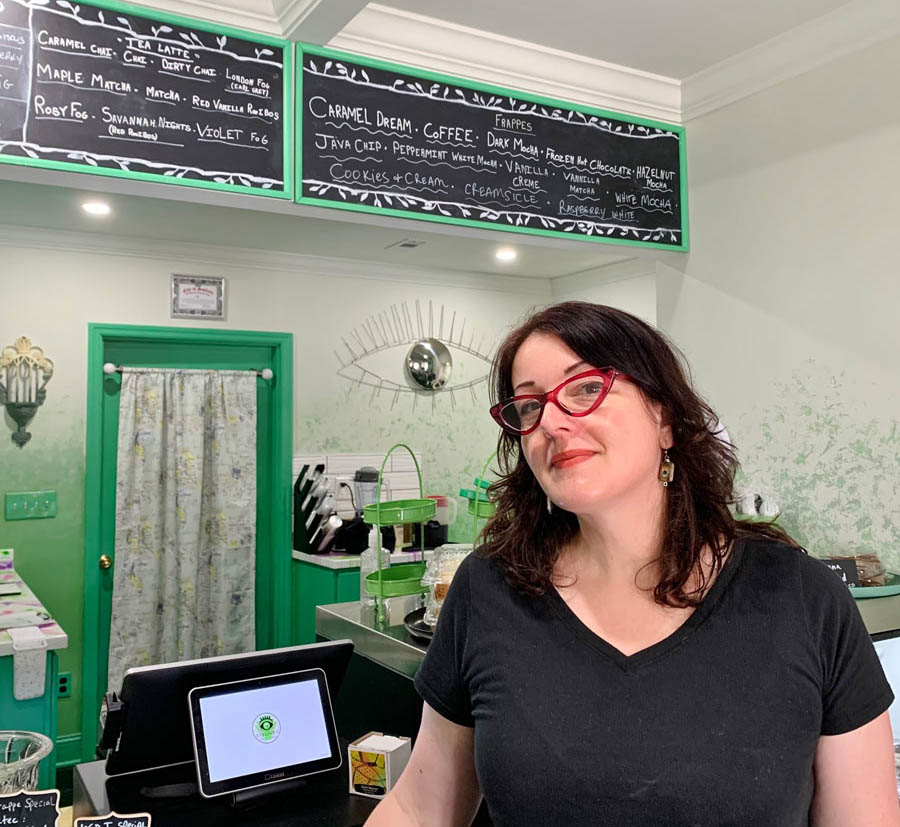 Chelsea Fields is living a dream as she has opened a new business -- The Eyelight Cafe and Comics -- following her participation in the Real Investment in Sanford Entrepreneurs program, more commonly known by the acronym RISE.
The eight-class program is designed to help entrepreneurs launch local businesses. Participants learn concepts, practices and tools to increase their chances for success in the competitive commercial environment.
"Chelsea is an excellent example of someone who put in the hard work to make her dream a reality. In RISE, she was at every class, asking questions, and taking full advantage of the resources available to her. I am excited to see what she will do with her business in the future," said Terri Brown, Director of the Central Carolina Community College Small Business Center.
Fields says that the idea of her new business, which opened April 9th at 122 W. Main St., Sanford, developed over a long period of time.
"Previously my husband and I owned a social painting party business. It was quite successful and grew very rapidly," said Fields, adding that she became pregnant in 2015 and had to close the social painting business due to a pregnancy illness. "We wanted to continue our creative pursuits, but no longer wanted to work at night with the new baby."
Fields said she began teaching Art and English online for a private company and her husband started an online comics business. "In 2018, we began planning the comics, coffee, art and flowers concept. We were able to design a workable plan to combine all of our individual interests into one space," said Fields.
The RISE program was beneficial for Fields. "The RISE program helped us to have realistic goals," said Fields. "We learned so much from each presentation that provided access to useful information and insights from experts in different fields. I found the segments regarding the value of social media marketing extremely valuable."
Brown speaks about the benefits of the RISE program. "The RISE program gives those interested in starting a business in Lee County an opportunity to not only learn the basics of starting or operating a business, but to make connections and discoveries that can be instrumental to success," said Brown. "Being an entrepreneur can sometimes be a lonely experience, but in RISE, students are able to learn alongside others going through the same process who understand the challenges of being a business owner and can offer support. Many RISE students find that the people they meet in RISE are their biggest cheerleaders."
What advice does Fields offer for someone considering the opening of a new business? "The advice I would offer someone considering a new business is: you must be passionate about your craft and committed to creating excellent customer experience. … Know your trade and be willing to improve and grow with your customers," she said.
"I would highly suggest participating in the RISE program. It will provide you the necessary time and tools to put a solid structure into place before your time becomes difficult to juggle once the business is open," said Fields. "You will receive a great amount of advice on marketing, legal and financial issues that will determine your success in the first few months of opening your business."
RISE is presented by the Central Carolina Community College Small Business Center, Downtown Sanford Inc. and Sanford Area Growth Alliance Chamber of Commerce -- with financial support from the NC IDEA Foundation, a private organization supporting business innovation and economic advancement across the state.
For more information on the RISE program, visit the website www.leesbc.com/rise. Or, contact CCCC SBC Director Terri Brown at tbrow513@cccc.edu or by phone at (919) 718-7558.